My Cool Kitchen Christmas Gift
I thought I would mention a very cool Christmas gift I received this Christmas.
I'll give you a hint. It can be used to make apple pie and apple crisp. In fact I will be adding my very delicious apple pie recipe in the near future on the main web site. So stay tuned.
This very cool gift is something I've wanted for quite sometime. Any guesses?
It's an apple peeler corer And I absolutely love it. My 13 year old son loves it too. Almost everyday he pulls it out and uses it. It's fast, simple, and easy to clean. It's also pretty compact, taking up little storage space.
You must use the apple peeler corer on a smooth flat surface. It has a suction cup at the base for holding the machine in place. So if you don't have a solid surface counter top or some other flat surface this won't work for you.
I happen to have a tile counter top with 4 inch tiles which doesn't work with this machine because my tiles are too small. I also tried using it on my wooden kitchen table and it doesn't stick well to that either.
What do I do?
I put the apple peeler corer on my washer or dryer. It's convenient for me and sticks solid. I've also tried using a cutting board and I haven't had any luck with that either.
My son likes to stick the apple peeler corer to a dinner plate and that works fine for him. Kids know how to improvise don't they?
Here's how easy this machine is to use
All you do to use it is place an apple on the prong end and crank the handle. It peels, cores, and slices an apple in mere seconds. Slide off the apple and it's ready to eat or get it ready for pie making. It's a wonderful thing.
When you are ready to clean it up, just slide off the core and rinse.
I tell you, we have really been going through the apples around my house. And when my kids friends come over, my son loves demonstrating the apple machine. His friends get a kick out of it as many have never seen this machine before.
It's also good for peeling potatoes. You will have to cut really large potatoes in half to get them to fit in the machine which is not a big deal.
Don't try and use this for soft fruit. It won't work. One afternoon I cam home to find my son's friend tried to use it on a kiwi. The results weren't good.:)
So if you like making apple desserts you might want to check out this little apple peeler corer and it is little. It's about 12 inches long by 4 inches wide by 5 1/2 inches tall.
You certainly don't need this machine to make a great apple pie or dessert but it sure is a handy gadget that's fun and easy to use. I highly recommend it.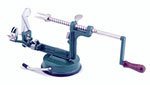 Regards,
Robin