Kitchen Cabinets -Some Things To Consider
So after two days of demo work for my kitchen remodel, my kitchen is down to it's studs.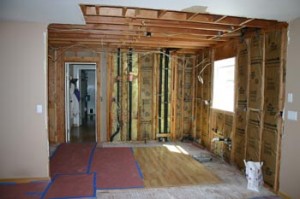 Somehow it looks rather small doesn't it? That's what my oldest son said as he passed through on his way to work.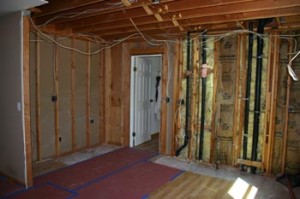 Here you can see where the refrigerator and oven was.
Today I am going to talk about the cabinets we purchased and some things to look for or consider when buying
cabinets for your kitchen.
At first we were going to go with Kraftmaid as we had some experience with it and we are trying to keep costs down.
Cabinets are a big deal in kitchens. They cost alot of money or they can and they really create the essence in the room. You usually really notice them. I do at least.
Two Important Considerations For Buying Cabinets
To me two of the most important considerations when choosing cabinets are the finish and the hardware. Some people might call it durability and function.
I want the most durable finish I can find. Why? Because cabinets can take a beating day in and day out. Foods get spilled on them, they get banged into by chairs or kids feet and water from the kitchen sink drips on them and eats away the finish.
So what's the best finish?
In my opinion it's a finish called conversion varnish. To get this finish your cabinets will have to be made somewhere else other than California. Here we have a lot more rules and regulations regarding California environmental protection laws.
All I know is I have a couple of friends who bought "custom cabinets" and after 5 to 7 years, their lacquer finish failed. I have another friend who has painted cabinets and the paint is wearing off after 5 years.
We had one company give us an estimate for custom cabinets but when I asked him how long the finish would last, he was honest and said it won't last as long a conversion varnish.
Bottom line: Find out what kind of finish you are getting before you buy.
As I mentioned earlier, we did not go with Kraftmaid (they do use conversion varnish). We went with a company called DeWils. They are supposedly better quality than Kraftmaid and have the conversion varnish. They were cheaper than Kraftmaid too.
DeWils also uses full plywood boxes instead of particle board and they don't charge extra for "soft close" or full extension drawers.
The downside to DeWils is that their color selection is small. Luckily for me they had the color I was trying to match. They also only have one choice for under cabinet rail which is 1 inch thick.
Under cabinet rail is used mostly to hide your under cabinet light fixtures. Sometimes people just like the finished look of their cabinets with the rail attached.
Again this worked out for me as the under cabinet lights I am using are very stream lined. Other brands can be quite bulky and noticeable.
Get Quality Cabinet Hardware
The second most important consideration, in my opinion, in choosing cabinets has to do with the hardware. I'm not talking about handles or knobs here. I'm talking about the drawer glides and door hinges.
You will be using your kitchen everyday. You will be opening and closing those doors and drawers all the time. Buy something that will hold up, you won't regret it. Get drawers that can handle at least 75lbs.
If you have never had full extension drawers, get them, you'll love them. You will be able to see everything in your drawer without having to dig around.
Soft close or easy close is another feature I like. It's not necessary but it's really kind of cool. You don't have to worry about slamming doors or drawers as they close softly all by themselves after a little push from you.
One Recommendation For Hardware
I'm sure there are many companies out there but I am certain you cannot go wrong with Blum. Most everyone I talked to about cabinets mentioned Blum as being a good/premium quality product. And yes DeWils uses Blum hardware.
I personally had a good experience with Blum when I called them about replacing some cabinet hinges for a rental property that I manage.
They sent me replacement hinges, no questions asked. I was very impressed. I like doing business with companies that stand behind their product.
Next time I will be talking about lighting and explaining what kind of light fixtures I bought. I'll give you a hint…LED.
Regards,
Rockin Robin