Delicious Burrito Recipes
2014-08-04
Prep Time :

0m

Cook Time :

0m

Ready In :

0m
If you want to learn the best burrito recipes you've come to the right place.
Let's start with "What makes a great burrito?"
It all begins with the tortilla. The best tortilla begins with a homemade flour tortilla, bar none.
I still remember my grandma patting flour tortilla dough between her hands when I was three. After cooking one, she would lovingly add a pat of butter and hand me that warm, delicious tortilla. It is a memory I hold dear.
Now back to our burrito recipes. In case you didn't know, burritos are made with flour tortillas, not corn.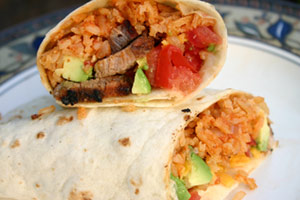 Corn tortillas are simply not large enough to hold all the luscious ingredients that go in them and flour just tastes better for burritos.
Not everyone has the time or the desire to make homemade flour tortillas. Heck with our busy schedules who can fit that in?
So let's say you are looking to buy tortillas. Some of the best I have found come from Costco. So if you are lucky enough to have a Costco that carries them, check it out.
Why are these some of the best in my opinion? First of all these tortillas come partially made. They are formed and rolled out but they are not cooked yet.
All you have to do is cook one for 45 to 60 seconds on a hot frying pan and you end up with this delicious, warm, freshly cooked tortilla that tastes homemade.
The second thing I like about them is that they are made with natural ingredients that you can pronounce. Yep, just your basic flour, water, salt, sugar, and oil. Nothing artificial here.
Some stores sell "homemade tortillas" that are better than "Mission Tortillas" along with the other brands you find at your local grocery store.
Trader Joe's carries a decent "handmade tortilla" you might want to check out. If you like a thicker flour tortilla this ones for you.
So start with a great tortilla and you are on your way to a great burrito.
Great Beans Are Important In Our Burrito Recipes
Next comes beans. Beans are a staple in burritos. They are the foundation. Again, homemade refried beans are the best.
But if you don't have time to make them, you can compromise here. Start with three or four cans of cooked pinto beans and you will shave off a couple of hours of cooking time.
If you have the time, you should try my refried beans, they will rock your burritos!
What Goes In Our Burrito Recipes?
The great thing about burritos is that you can put just about anything in them. I will give you some ideas below to get you started.
First of course is your basic bean burrito. This includes beans and some cheddar cheese. Roll it up and you are good to go. Kids usually go for these.
To expand on our basic burrito here is what I recommend. Get a hold of those delicious flour tortillas I told you about and cook some Spanish rice and refried beans.
Then decide if you want to put some Mexican beef in them or maybe you feel like some pork chalupa (this recipe has black beans in it so you can omit making the refried beans, thus saving a step.)
The pork chalupa recipe is slow cooked in a crock pot so you know that means fork tender pork here. Yummy.
Or maybe you feel like shrimp burritos. If that's the case, cook up some Margarita shrimp. The shrimp will only take a few minutes to cook so do this step last.
Other Great Things To Put In Your Burrito
Here are some ideas for putting delicious goodies in your burritos. The list is endless but the following are the basics.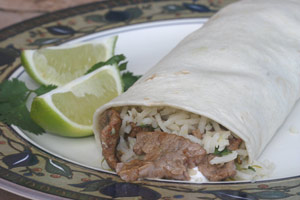 onion, finely chopped
salsa, homemade or store bought
hot sauce
jalapeno, chopped
lettuce, shredded
oil and vinegar dressing, add this on top of the lettuce, so tasty
olives
sour cream
cilantro
shredded cheese, mild cheddar, Mexican blend, or your favorite
tomato, sliced
You can also put enchilada sauce on top of your burrito along with a sprinkle of cheese. These are sometimes called "wet" burritos. I call them super burritos.
Delicious Burrito Recipes
Beef Burrito
Breakfast Burrito Made with chorizo, eggs, chiles, cheese, hash browns and more. Great way to start your day.
Pork Burrito
Chicken Burrito A shredded chicken recipe made from scratch.
Carne Asada Burrito Marinated grilled beef stuffed in a tortilla with cilantro lime rice, salsa, sour cream and guacamole. Ole!