Robin's Margarita Recipe
2014-08-04
Prep Time :

0m

Cook Time :

0m

Ready In :

0m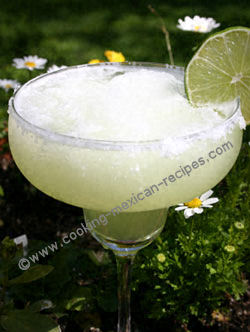 Want a great idea for your next party? Serve Margaritas!
But you must start with a good margarita recipe.
Think back to when you were at a party and the hostess asked "Who wants a frozen margarita?" At the parties I've been to, a good number of people shout "I'll have one!"
Margaritas always seem to be a hit. Now you can serve them up whether you are having Mexican food or not. Margaritas are great anytime and with any food.
Try our recipe and see if your guests don't think these are some of the best they've tried. Cinco de Mayo would be a perfect time.
Here is our margarita recipe that is easy to make.
Robin's Margarita Recipe (Serves 4)
Ingredients:
2 oz. Lime Juice
12 oz. Sweet and Sour
6 oz. 100% agave Tequila
2 oz. Triple Sec
2tsp. simple sugar
2 -2 1/2 cups of ice
Directions:
Make your simple sugar first so it has time to cool.
Add 1/2 cup of sugar and 1/2 cup water to a sauce pan and heat over medium heat. Stir constantly until the sugar has completely dissolved. Set aside and cool.
You can store the simple sugar in a container with a lid for a month or two.
Now add all the liquid ingredients to the blender and then add the ice. You might have to adjust the amount of ice you use depending how thick you like your margaritas. Play with this until you get the consistency that you like.
If your guests like salt, rub the rim of a margarita glass with lime and dip dip into the salt. Pour margaritas into these nice margarita glasses and garnish with a wedge of lime.
Time Saving Tip So You Can Enjoy The Party Too!
If you were planning on serving a lot of margaritas at your party, you might want to premix your ingredients with the following margarita recipe.
Then all you have to do is add ice to the blender and then pour in your premix. This will allow you to mix a batch of margaritas very quickly and easily.
Your guests will think you are an awesome bartender!
Margarita Recipe For A Crowd
Ingredients:
2 liters of Jose Cuervo or 100% agave Tequila
1 liter Triple Sec
2 liters of Sweet N Sour
1 liter of lime juice (Like Roses lime juice)
1/4 cup simple sugar
margarita salt
wedges of lime
Directions:
Mix the above in a large pot and stir with a whisk to combine. Use a measuring cup with a pour spout and a funnel (if you don't have good aim!) and pour the mix back into all the bottles you just emptied.
Store these in the refrigerator until you are ready to serve margaritas.
When it's time to make another batch of margaritas, fill your blender 3/4 or so with ice and pour in your mix. You will want to cover the ice with mix. After you do this a time or two you will learn how much ice to use depending on the consistency you like.
Less ice means a thinner consistency.
Your margaritas will turn out great every time.
You can rub the rim of your margarita glass with lime and then dip it in salt. You can also put a wedge or slice of lime on the rim for a festive look.
If you would like to find some great tasting recipes, check out our mexican food recipes here.
Want to try some mexican appetizers to go with your margaritas? You will love these.
Other Drinks
Mexican Coffee Recipe
How To Make Sangria
More Sangria Recipes
Mexican Hot Chocolate Recipe
Tropical Smoothie Recipe
Homemade Lemonade Recipe