So You Want To Learn How To Make Sangria?
2014-08-04
Prep Time :

0m

Cook Time :

0m

Ready In :

0m
Robin's Red Sangria Rocks!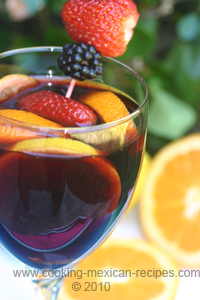 Before I show you how to make sangria, let's talk about what it is.
Sangria originated in Spain and Portugual and is basically a Spanish wine punch, flavored with lots of fresh fruit.
The word sangria is such a nice sounding word isn't it? Can you believe it means "bloody" in Spanish? I couldn't believe it either. Maybe it's referring to the nice red color when it's made with red wine.
Sangria can also be made with white wine and is called Sangria blanco.
This wonderfully refreshing wine punch is the perfect drink for celebrating Cinco de Mayo, a block party, a bachelorette party or any fiesta.
After you try it you will be making batches of your own and having it all the time. Your friends will soon be asking you how to make sangria.
It's incredibly easy to make and everyone seems to like it's fresh fruity flavor. I'm not a wine drinker but after tasting this, I can say that even I like the flavor. It must be the fruity taste and it goes down very easy.
Sometimes a little too easy so watch out!
Sangria in it's traditional form, is made with red wine in addition to some or all of the following ingredients:
fresh citrus juice, like orange, lemon, pineapple and lime
a liqueur such as triple sec, peach shnapps or other fruity liqueur
carbonated soda (either ginger ale, 7up, carbonated water or any other carbonated drink)
sliced or whole fresh fruits, strawberries, blueberries, blackberries, oranges, lemons, limes, pineapple, even kiwi and peaches.
additional liquor such as brandy, rum, or vodka
The beauty of this drink is that there is no exact recipe.
Yes I'm going to give you a good one but don't be afraid to change it up if you like.
This is a very good, how-to-make sangria recipe.
Let's get to the recipe and then I will give you some tips on how you can "make it your own".
Watch My Video On How To Make Sangria
How To Make Sangria
Sangria Ingredients:
2 bottles of red wine, I used Trader Joe's "Alexander & Fitch Cabernet Sauvignon
2 oranges, juiced
2 lemons, juiced
1 lime, juiced
2 oranges, sliced and seeded
2 lemons, sliced and seeded
1 lime, sliced and seeded
1 cup triple sec
1/2 cup sugar and an equal amount of water, heated till dissolved, cooled, you'll have left overs which is ok.
2 liter bottle of ginger ale, I used 3/4 of the bottle
3/4 cup of pink lemonade frozen concentrate, thawed
1 cup strawberries, added just before serving
1 cup blackberries
Directions:
Grab a large glass picture, I used a gallon size jar with a lid.
Add the wine, the juiced oranges, lemons and lime (without seeds), the triple sec, the lemonade concentrate, the sliced oranges, lemons and limes, the 3 tablespoons of the dissolved sugar and stir well.  Save all soft fruits and ginger ale to add the next day before serving.
Put the lid on and refrigerate at least 8 hours but preferably 24 hours.
When you are ready to serve, pour the wine into a container large enough to hold all the wine and the fruit.  You will be adding the ginger ale at this point. Stir to combine.
You may or may not need to add more sugar. That's up to you and how sweet you like it.
All together I used about 1/4 cup of the simple syrup. Taste the sangria and add more sugar if you wish.
I used one of those big water dispensers/servers with a spigot to serve the sangria in. You can pick these up at Costco. They work great for sangria.
Don't add ice to the sangria but rather add it to the glass. You don't want to water it down.
Tips On How To Make Sangria
Your first question is probably "What kind of sangria wine should I use?" Don't use a real expensive wine. You will be wasting your money as you won't be able to appreciate it's full flavor.
Spend around $10.00 for a decent bottle of Cabernet Sauvignon, Merlot, Rioja, Pinot Noir or a Spanish wine and you can't go wrong.
As I mentioned above, I went to Trader Joe's and picked up the Alexander & Fitch Cabernet and it was great. It only cost $6.99 a bottle.
Sangria must be served chilled.
If you are adding strawberries, add them just before serving. They can get pretty mushed up if you add them the night before and they won't look very appetizing.
A nice touch is to skewer some fruit and place them in the glasses before serving. It looks great and your guests will enjoy nibbling on the fruit.
Try and use whatever fruit is in season. Fresh sweet strawberries, peaches and blackberries from the farmers market are incredible.
Place the skewered fruit on a platter or cup and let guests grab their own to add to their drink.
Have ice cubes available for guests to add to their wine if they want.
Adding sugar to the wine doesn't dissolve very easily so I dissolved the sugar in water and heated it until the sugar dissolved and then let it cool. This is called simple syrup.
How To Make Sangria "Your Own"
Making a sangria wine punch is not an exact science but rather a work of art that you can change and create based on what you have on hand and what you like.
Here is a list of ingredients you can add to make your own sangria. I listed amounts so you have a general idea how much to add based on one bottle of red wine.
1/2 cup of brandy, rum, or vodka
1/3 to 1/2 cup of liqueur of your choice, grand marnier , triple sec, or peach schnapps are good examples.
2 to 6 cups of ginger ale, carbonated lemonade (Trader Joe's), club soda, or 7 up
1 to 2 cups of fruit juice such as orange, lemon, lime, pineapple, pomegranate, cherry, cranberry or apple, preferably fresh.
as much sliced fruit as you want. The more the better in my opinion
Experiment with different amounts of ingredients and you will develop your very own special how-to-make sangria recipe.
Learning how to make Sangria is fun and you will find most everyone will love it. It goes without saying how wonderful it is with our Mexican recipes. Here are a couple more sangria recipes for you to try.
You might also want to try our margarita recipe too.
Enjoy!
Do You Have A Favorite Sangria Recipe You Would Love To Brag About?
Tell us about your best sangria recipe in the comments below. Give us as much detail as you can so we can duplicate your delicious recipe.
Appetizers To Go With Sangria
Mexican Artichoke Dip
Jalapeno Poppers
White Cheese Dip
Guacamole Dip