Pastel De Tres Leches Cake "Absolutely Scrumptious"
2014-08-04
Prep Time :

0m

Cook Time :

0m

Ready In :

0m
I was looking for a delicious Tres Leches cake recipe and I believe I have found it.
This dessert recipe comes from a restaurant called Fonda San Miguel in Austin, Texas.
Want to "wow" your guests with a dessert they won't soon forget? This 3 milk cake recipe will do it with it's rich satisfying flavor. Everyone I served this to loved it and many asked for the recipe.
You may be asking exactly what is 3 milks cake? Surely you are familiar with cakes such as Tiramisu, or rum cake, or even bread pudding. All these cakes are soaked in a liquid such as rum, syrup, or pudding. It's the same basic idea with tres leches cake. The liquid is three kinds of milk: condensed, evaporated and heavy cream.
The soaking is what makes it unusual but not soggy. The three milks provide just the right amount of sweetness and the whip cream topping completes the richness. I was a little skeptical at first but all you need is one bite and you will be hooked. I am.
Although the tres leches cake recipe says it serves 8 to 12, I have found that you can serve 12 to 14 due to it's rich nature especially after a heavy Mexican meal.
The original recipe called for the whip topping to contain nothing but heavy whipping cream. However, I changed that part to include some vanilla and a little sugar for a little flavor. You know what I always say? "It's all about the flavor".
History of Tres Leches Cake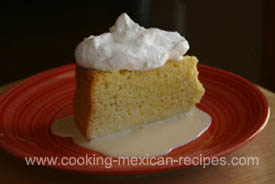 No one can really agree on where tres leches cake originated. You can find recipes from Mexico, Cuba, Nicaragua, Puerto Rico, Panama Costa Rica, and Guatemala.
There are even accounts that Nestle Corporation sold condensed and evaporated milk from a plant in Mexico beginning in 1875 with the recipe on the back of their cans.
The idea here was to promote the use of canned milk as it did not require refridgeration.
No matter where this cake originated, it taste great. And that's all that matters.
Difference Between Condensed and Evaporated Milk?
Did you ever wonder what the difference is between condensed, and evaporated milk?
Evaporated milk is made from fresh milk where 60% of the water is removed or evaporated before processing and then canned.
Condensed milk is combination of 60% whole milk and 40% sugar. It is cooked until 60% of the water evaporates and what is left is a sweet milk syrup.
You will notice a difference between the two when you open the cans. With the evaporated milk you can just pour it out where as you will need a spoon to scoop out the condensed milk with it's thick consistency.
Enough talk. Let's get baking so you can try tres leches cake for dessert tonight.
Check Out My Tres Leches Cake Video
Tres Leches Cake Recipe
Ingredients:
1 1/2 cups all purpose flour
1 teaspoon baking powder
1/2 teaspoon sea salt
6 eggs
1 cup sugar
1/4 cup water
4 teaspoons Mexican vanilla extract
1 – 14 ounce can sweetened condensed milk
1 – 13 ounce can evaporated milk
3 cups heavy cream
2 tablespoons sugar
Fresh mangoes, strawberries, blackberries, or other fresh fruit, sliced
Directions:
Preheat oven to 350 degrees F. Coat a 9 by 3 inch springform pan with a vegetable spray like Pam.
Sift the flour, baking powder, and salt together in a medium size bowl.
I like to use a kitchenaid mixer for this recipe or any stand mixer will do. Mix the eggs and sugar in the mixer bowl and beat on high speed for about 5 minutes or until the volume has doubled. Reduce the speed to low and add one teaspoon vanilla and water. Mix well.
Gently fold the flour ingredients into the egg mixture. You can use the mixer on the slowest setting or fold the flour in with a spatula.
Pour the batter into the springform pan and bake for 35 to 45 minutes. I placed the cake in the center of my oven and it took closer to 45 minutes.
You can tell when it's done when the center is firm and the cake starts to pull away from the sides of the pan.
Cool the cake on a rack for 15 minutes. Place a plate over the cake and turn upside down.
Release the springform pan. I found that the bottom stuck a bit so use a knife to cut along and release the cake.
Place your hand over what is now the bottom of the cake and turn the cake over onto your hand. Gently place the cake right side up onto your serving dish.
Serving It Up
Make sure to serve your tres leches cake on a platter that has a lip to hold in the milk.
Set the cake aside to cool completely. Use a serrated knife to slice and/or peel off the top skin of the cake. You can toss this part away or if you are like me you will probably want to see how it tastes.
When the cake is cool, whisk together in a bowl the evaporated milk, the condensed milk, 1 cup of the heavy cream, and 2 teaspoons of the vanilla.
Using a long tooth pick, ice pick, fork or whatever you have available, poke holes all over the cake. The holes will allow the cake to absorb more of the milk.
Pour or spoon the milk mixture slowly all over the cake and allow it time to soak in before adding more milk. Then refrigerate the cake.
When you are ready to serve the cake, place the 2 cups whipping cream in a chilled mixing bowl and begin mixing on medium. Add one teaspoon vanilla and the sugar, a tablespoon at a time, and beat on high until medium stiff peaks form.
Spread whipping cream generously on the top of cake. I garnished mine with sliced strawberries the first time and blackberries the second time.
What a special treat this delicious dessert is. I assure you I will be making this again. Be sure to refrigerate leftovers, if there are any.
I hope you enjoy this tres leches cake as much as I do.
Most Dessert Recipes
Sweet Tamales Easy and Delicious.
Mexican Wedding Cookies
Churros
Mexican Flan
Bunuelos A Sweet Fritter