Scrumptious Churro Recipe
2014-08-04
Prep Time :

0m

Cook Time :

0m

Ready In :

0m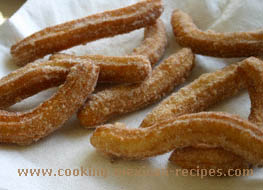 Our churro recipe will knock your socks off. When I made these for my kids, they devoured them in 5 minutes. I had to hide some of them for my husband or he was going to miss out.
Golden brown and crispy on the outside, these little Mexican donuts are hard to resist. I also found them fun to make.
The best part was putting the dough into my frosting decorator with the star tip (this little tool really is a must have for this recipe in my opinion) and squeezing them out into the hot oil. No really the best part was eating them. But I will let you be the judge of that.
Tips for making our churro recipe is to make sure your oil is hot, otherwise you may end up with soggy churros and we can't have that.
Also get yourself one of these frosting decorator tools. They make your churros look like the kind you buy at the fair. Very professional.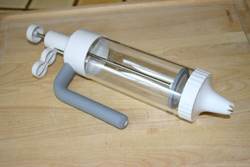 This tool can also be used for many other recipes like deviled eggs, twice baked potatoes and of course cake decorating.
It's quite the decorating tool to own. It will make your churros nice and uniform too.
I bought mine from Pampered Chef for about $19.00 but there are others that work well too.
Watch Our How-To Video
Scrumptious Churro Recipe (Makes about 2 dozen, 4 inch churros)
Ingredients:
1 cup water
2 Tbsp. brown sugar
1/2 tsp. salt
1/3 cup butter
1 cup white flour
2 eggs
1/2 tsp. vanilla extract
1/4 cup sugar
1/2 to 1 tsp. ground cinnamon, depending on taste
Directions:
Preheat 1 1/2 to 2 inches of vegetable oil in a 10 to 12 inch frying pan to 375 degrees F. In a separate dish mix the 1/4 cup sugar and cinnamon and set aside.
In a 3 qt. sauce pan add the water, brown sugar, salt, and butter and heat to a good boil. Remove from the heat and add the flour. Stirring in the flour will take some muscle. Mix it in until well blended.
In a separate bowl, mix the eggs and vanilla together and then add this mixture to the flour mixture. Stir until well blended and all the egg is completely mixed in.
Fill your decorating tool with the churro recipe dough and attach the largest star tip you have.
Test your oil by placing a small amount of dough in it. The dough should bubble up right away or that means the oil is not hot enough and a soggy churro is on the way.
Once the oil is hot enough, squeeze some dough (using decorator) into the oil about 4 inches long. I used my finger to release the dough from the decorator. You can use kitchen scissors if you wish. You will look more professional than I did!   Careful not to burn yourself.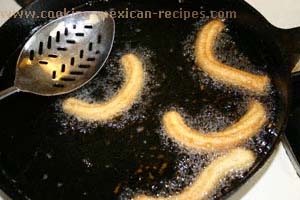 You should be able to cook 4 or 5 churros at a time. Cook them about 1 minute and turn them over with a slotted spoon. Cook an additional minute or two. You're looking for that nice golden brown color.
Remove the churros with the slotted spoon and place them on a paper towel-covered plate to absorb excess grease.
While still warm, roll each churro into the dish with the sugar and cinnamon until coated. Churro's taste the best eaten right away and for sure by the next day.
You could serve this churro recipe with mexican hot chocolate topped with whipped cream. What a treat.
Click here to watch my how to make churros video.
You will find more Dessert Recipes here.