Homemade Tamales Recipe
2014-08-04
Prep Time :

0m

Cook Time :

0m

Ready In :

0m
If you thought that making a tamales recipe requires days of labor in the kitchen, think again.
Let me show you how easy it really is. The secret is to make them over a couple of days. This way you won't get overwhelmed.
Who says you have to make 20 dozen at a time? Yes that's a lot of work. With my recipe you can make 20 to 40 and you won't be exhausted afterwards.
Traditionally tamales are made at Christmas time in large batches. I remember my grandmother making sweet tamales during the holidays when I was growing up. What a treat that was.
I want you to feel like you can have homemade tamales anytime. Why? Because they are fabulous especially right out of the steamer.
Here is how I am going to get you in and out of the kitchen in a reasonable amount of time. I am going to show you how it's done with pictures and instructions. Follow along and you will see it's no big deal. Really.
The General Process To Great Homemade Tamales
First we are going to break the process down into two days.
The first day will be spent acquiring all the ingredients and cooking the pork. The most time consuming part is cutting the pork into 1 inch chunks. Cooking the pork is just a matter of simmering the meat for a couple of hours so it's real tender. You can put your feet up and relax during this part.
The second day is spent mixing the masa and then putting the tamales together and cooking them. My recipe will make you about 18 to 20 tamales. Not a huge amount but certainly enough for dinner with a few left over for freezing.
This is for when the next tamale craving gets the best of you. And it will.
Kitchen Tools Needed To Make Hot Tamales
Make sure you have the following on hand before you start.
a steamer
a large bowl to mix masa in
tongs
measuring cups
measuring spoons
6 quart or larger stock pot
sharp chefs knife
cutting board
a large pot or bowl to soak corn husks in
a damp white cotton towel (to place over tamales when cooking)
a butter knife or spreader
List of Ingredient For Authentic Tamales
7 lb. pork butt/shoulder roast
chili powder
ground cumin
sea salt,
garlic powder, no salt and very fine like flour
chicken base
sugar
cinnamon
white flour
corn husks
MaSeCa Instant Corn Masa Mix
corn oil
What To Look For In A Steamer
The steamer will probably be the most difficult item to find. I know I had a difficult time finding just the right steamer for me.
The steamer insert needs to be at least 8 inches deep as you will be standing the tamales up vertically when cooking. You will also need room for that cotton towel on top. Make sure the outer part of the steamer you buy can hold at least 2 inches of water without touching the tamales.
I searched and searched and found a great 12 quart steamer made of stainless steel for about $50 at a department store on sale. You will find many steamers made of aluminum but I personally won't use those as I don't want to chance getting aluminum in my tamales.
Stainless steel really is the way to go. It is easy to clean up and it won't leach anything into your food. If I ever find one on line I will let you know.
Here is the steamer I bought. I also use the 12 quart stock pot for stews, enchilada sauce, refried beans, etc. when I cook for a large group.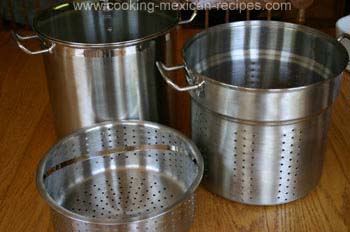 After you have acquired the tools necessary for tamale making, here is our list for ingredients to make the pork filling. Remember this is still day one.
Check Out My How-To-Make-Tamales Video
Meat Filling Ingredients For Pork Tamales
Ingredients:
7lb pork butt roast, prefer boneless
1/3 cup chili powder
96 oz. chicken broth
5 tsp. ground cumin
1 Tbsp. plus 1 tsp. chicken base or granules
3 Tbsp. garlic powder
1 tsp. salt
1/8 tsp. cinnamon
3/4 tsp. sugar
8 Tbsp. flour
3/4 cup cold water
Directions:
Fill the stock pot with the chicken broth and add the chili powder, cumin, chicken base, garlic powder, salt, sugar, and cinnamon. Heat to boiling then cover and simmer on low while you cut up the pork.
Cut the pork into 1 inch cubes. Trim as much fat off as you can. I prefer chucks of tender pork in my tamales instead of shredded pork. You can do it either way.
Add the cut up pork to the boiling sauce. Partially cover and simmer on low for 2 to 3 hours or until pork is real tender.
When the pork is done and very tender, combine the 1/2 cup cold water and flour with a whisk until well blended.
Turn the heat up to high and when it is boiling, slowly add the flour mixture to the pork. Stir the pork continuously to avoid lumps just like you would when making gravy.
Continue to slow boil while stirring for about 3 to 5 minutes and then turn the heat off.
Now if you are real ambitious you can start making the masa and preparing the tamales. If you would rather continue the next day, let the pork cool after cooking and then refrigerate.
That didn't take too long now did it?
Day 2 of The Tamales Recipe
If you are making tamales over two days, now is the time to take the pork filling out of the refrigerator and heat it up in a pot on the stove. You don't have to get it real hot, nice and warm will do.
If you have continued on making the tamales, because your dying to eat one, let the pork sit and cool a bit while you make the masa.
Before you make the masa, soak the corn husks in warm to hot water in a bowl for 30 minutes or until they become pliable. Gently separate the husks so as not to tear them. If some are torn you can use two husks and over lap them before putting masa on them.
Time To Make The Masa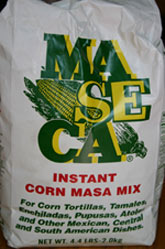 Most of these ingredients for this easy tamales recipe can be found in your local grocery store and certainly in a Mexican market if you live near one. Be aware that you should not use regular corn meal. I want to recommend MaSeCa (instant corn masa mix) as shown in the picture as it's specifically designed for tamale making.
I also want to ask you to smell your corn oil, if you've had it for a while, to make sure it doesn't smell rancid. When my oil has that funny smell, I toss it.
The following ingredients will yield about 18 – 20 tamales.
If you need more masa to even out with the pork, just whip up another batch of masa. There are a lot of variables here: How thick you make your masa on the corn husks, how much pork you put in each tamale, and if your roast has a bone in it, meaning less meat.
Delicious Masa Recipe
Ingredients:
4 cups MaSeCa Instant corn Masa Mix
3 tsp. sea salt
1/2 tsp. garlic powder (no salt)
1 cup fresh corn oil
2 1/2 cups chicken broth
Directions:
Put the masa, salt, and garlic powder in a large bowl and combine the dry ingredients.Then add the corn oil and mix with your hands. Now add the chicken broth 1/2 cup at a time.
Continue to mix with your hands and adding the broth until you get the consistency of cookie dough.You should have a consistency that you can spread with a knife or spreader.
If you add too much liquid you can always add a little more masa to thicken it up.
Putting The Tamales Together
Now we're ready for the fun part of the recipe!
The corn husks should be soft and pliable. Take a few out and pat them dry with a paper towel or towel.
Take a spoonful of masa and spread it on the corn husk as follows: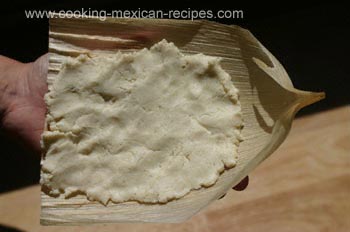 Leave the pointy end of the husk without masa so you can fold it over.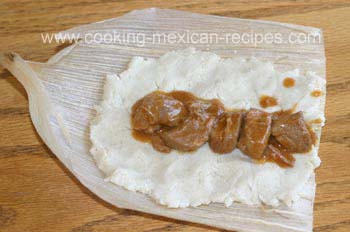 Now I'm starting to get hungry. Place several chunks of pork down the center of the masa like this.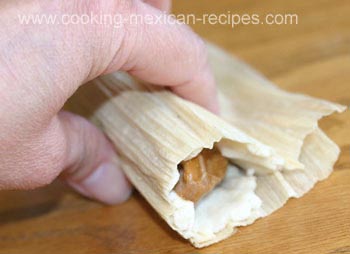 Fold the masa over so the ends meet.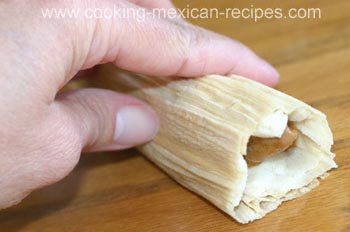 The idea is to put just enough meat so that you can encase it in masa and not leak out. Now roll er up.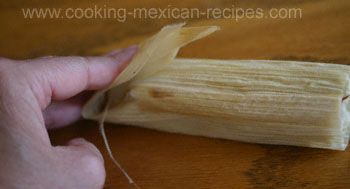 After you roll the tamale up, fold over the end like this.
Continue to make tamales and when you are done place them in a steamer with the open end pointing up.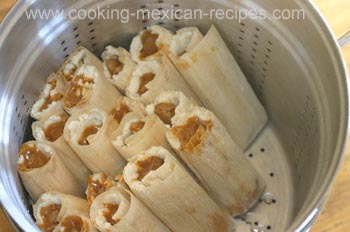 You can put a layer of husks on the bottom of the steamer to help keep the tamales from getting wet, but I didn't have a problem without them.
Steam Those Tamales
Place the damp cotton towel over the top of the tamales and cover with the lid. Make sure you add just enough water to the bottom of the pan so the water doesn't touch the tamales. Check it often so the water doesn't run dry.
Get the water to boil and then turn the heat to low. Simmer/steam for 1 1/2 hours. Check the tamales by removing one and letting it cool for 5 minutes. Open the hot tamale and check that the masa is firm and not mushy.  The husk should pull away from the masa easily.
If need be, cook a little longer and check every 15 minutes until done.
When tamales are done take them out of the pot to cool on the counter. Tongs are great for this.
Go ahead and eat one. This is when they taste their absolute best.
I like to use a vacuum sealer to keep my tamales for several months in the freezer. You can also keep them in Ziploc bags in the refrigerator. Use these within 5 days, if they last that long.  They get gobbled up pretty quick in my house!
After you have made your tamales, give yourself a pat on the back. The tamales are perfect served with refried beans and rice. Don't forget to add a little guaucamole and salsa.
More Ways To Use This Recipe
Serve tamale appetizers at your next party or bring them to one. Just reheat the tamales in the microwave. Put them on a plate and cover with damp paper towels or towel. Heat on high for 30 seconds and rotate. Cook another 30 seconds or until hot.
Carefully remove the corn husk and slice the tamales into thirds and place on a serving plate.
Makes for a great appetizer all by themselves. You could even make a little guacamole to serve on the side so guests can top their mini tamales with guacamole. Delicious.
I hope you will give this recipe a try.
Serving Tip
Another great way to serve these tamales is to top them with my enchilada sauce and serve with beans and rice. Sprinkle with mild cheddar cheese and your are in for a feast!
Try our Sweet Tamales Recipe.
More Pork Recipes