Cilantro Lime Rice Recipe
2014-08-01
Prep Time :

0m

Cook Time :

0m

Ready In :

0m
A Fast Delicious Recipe
Have you tried cilantro lime rice with your mexican food? If not give this recipe a try or head on down to your local Chipotle Restaurant.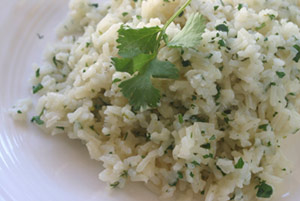 The first time I ate there I was surprised to see this cilantro lime rice being served in my burrito. I thought to myself "What is this white rice they are serving?" Upon sinking my teeth into my burrito I was pleasantly surprised.
Wow! What Flavor…
I said "Wow, what kind of rice is that? It's delicious." I've been hooked on this cilantro rice recipe ever since.
I still love Spanish rice but this sure is a nice change once in a while. And it takes less time to make than Spanish rice.
This rice with it's fragrant hint of lime and cilantro makes a fine side dish for Mexican food as well as other dishes. It goes great in burritos, a side dish with black beans, enchiladas, you name it.
A Versatile Dish
Try it with terryaki chicken, beef, shrimp and other types of fish too. Cilantro lime rice has such nice flavor that this dish can definitely stand on its' own.
You can use a variety of different types of rice to make this recipe. Basmati and long grain white rice are the norm but you can also make it with healthy brown rice.
With brown rice of course you will have to increase the cooking time and liquid. Just follow the package directions.
I will mention that there is a little difference between the Basmati rice and long grain. The basmati rice will tend to be a bit "drier" and less likely to clump together. They both work well so just use what you have on hand.
Watch My How-To Video On Cilantro Rice
Cilantro Lime Rice Recipe (serves 4)
1 Tbsp. olive oil
1 cup basmati rice
1 1/2 cups chicken broth
2 to 3 cloves garlic, minced
2 Tbsp. fresh lime juice
zest from one lime
1/2 cup cilantro, chopped
1 tsp. salt
Directions:
Add the oil to a sauce pan and heat on low. Add the garlic and rice to the oil and saute for 2 minutes on medium heat stirring frequently.
Add the chicken broth, salt, lime juice and bring to a boil. Cover and cook on low for 15 minutes or according to rice package directions.
When the rice is done, add lime zest and chopped cilantro and stir to mix in. Serve immediately.
If you are using regular long grain rice, follow the cooking directions on the box regarding the amount of liquid to use and the cooking time.
This rice would go great with our chile verde recipe. Check it out.
Enjoy,
Rockin Robin
Try Our Other Rice Recipes
Healthy Spanish Rice made with brown rice.
Top of Cilantro Lime Rice