Homemade Pico De Gallo Recipe
2014-08-04
Prep Time :

0m

Cook Time :

0m

Ready In :

0m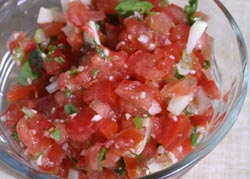 Did someone mention salsa recipe?
Our pico de gallo recipe (which by the way means "Rooster Beak"), will fit the bill. Fresh, healthy and full of flavor.
If you have never tried this wonderful garnish you are in for a pleasant surprise.
I am going to show you how to make a delicious homemade salsa recipe right in your own kitchen.
Which Tomatoes To Use For Pico de Gallo?
If you want the best flavor go for homegrown tomatoes. They win out every time with their bursting flavor. They have a lot more liquid in them compared to Roma tomatoes and can make your salsa a little watery but I have a fix for that.
As I show in my video below, after you chop up your tomatoes, place them in a colander or strainer and let them sit for about 20 to 30 minutes and most of the liquid will drain out into a bowl.
Save that liquid. Don't throw it away. It's delicious and nutritious and it makes you ambitious! Kidding aside, it can be used in other dishes like rice, or spaghetti sauce, soup or you can just drink it.
Pico de gallo is easy to prepare and is great served with tortilla chips, in tacos, burritos, tostadas and even over eggs.
It's quite a universal dish. Try serving it along side grilled chicken, beef or fish. Need a party appetizer that's on the healthier side? This is one to try.
This simple tomato salsa is also low in fat and high in nutrients. You simply can't go wrong. So when that urge hits for salsa and chips this recipe is guaranteed to satisfy.
You can even adjust the heat by changing the amount of jalapeno you use.
Pico De Gallo Video
Pico De Gallo Recipe
Ingredients:
3 homegrown tomatoes, cut into 1/4 inch cubes
1/2 yellow onion, finely chopped
1/2 to 1 jalapeno pepper, seeded and minced
small handful of cilantro, chopped
1/2 lime, juiced
salt and pepper to taste
Directions
Slice the tomatoes first, into 1/4 inch chunks and place in a strainer. Let this drain into a bowl for 20 min.
Chop up the onion and jalapeno and place into a bowl with the tomatoes. Add the chopped cilantro and the lime juice and mix to combine. Salt and pepper to taste. Stir and taste.
Adjust seasoning or ingredients as needed.
Let the pico de gallo rest so the flavors can mingle and develop for about 30 minutes before serving.
Serve this Pico De Gallo recipe with any of my mexican food recipes for some great meals.
This is such a delicious appetizer you may want to double the recipe because it disappears fast.
Return from Pico De Gallo Recipe to More Mexican Recipes Home
More Salsa Recipes
Vegetable Salsas
Shrimp Salsa
Restaurant Style Salsa
Carrot Pico De Gallo
Fruit Salsas
Mango Salsa
Orange Pineapple Salsa
Cranberry Salsa
Avocado Melon Salsa
Tropical Pineapple Salsa
Click here to watch my Pico de gallo video.