Moist Pumpkin Bread Recipe
2014-08-02
Prep Time :

0m

Cook Time :

0m

Ready In :

0m
Halloween, Thanksgiving, and Christmas. They make me think about pulling out a pumpkin bread recipe.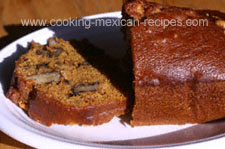 The following holiday dessert recipe was given to me by my sister who recently surprised me with a loaf of her favorite pumpkin bread. And what a nice surprise it was. This bread is wonderfully moist with a homey cinnamon, nutmeg, and clove flavor. Walnuts give it a crunchy texture and are always optional of course.
This recipe will make six 4 x 8 inch loaves. Bake them up ahead of time, freeze them and give them as Christmas gifts to family and friends. It's a thoughtful way to share your Christmas spirit and who doesn't love receiving a homemade goodie?
You can also keep these in the freezer and have a delicious snack on hand for guests. The hard part will be not eating them all up by yourself.:)
And you know, you don't have to wait for the holidays to make this bread. It's good anytime of year and is quick and easy to make.
Pumpkin Bread Recipe
Ingredients:
2 1/4 c. sugar
2 1/2 cups packed light brown sugar or 1 box brown sugar (1 lb.)
1 – 29 oz. can pumpkin
6 eggs
1 1/2 cups canola oil
1 c. water
5 1/4 c. flour
1 Tbs. plus 1 tsp. ground cinnamon
1/2 tsp ground ginger
1 Tbs. ground nutmeg
1 tsp ground cloves
2 1/2 tsp salt
3 tsp. baking soda
6 aluminum loaf pans, 4 x 8 inches
Optional Ingredients
Chocolate chips
raisins
walnuts or pecans
Directions:
In a large mixing bowl (I use a 5 quart kitchen aid mixer and it makes mixing a breeze) add the sugars and pumpkin and mix well on low speed. Then add the eggs, oil, and water and mix until combined.
Add the flour one cup at a time until mixed in. Slowly add all the spices, salt and baking soda until completely blended. Scrape the sides of the bowl as needed.
Pour the batter into greased or Pam sprayed loaf pans (4 x 8 inches) until half full.
Now for the fun part. Since you will be making 6 loaves, you can add any of the following to each pan:
3/4 cup walnuts or pecans, chopped (highly recommended)
3/4 cup raisins
1/2 cup chocolate chips
I personally like this pumpkin bread recipe with walnuts so I add 3/4 cup chopped walnuts to each loaf and stirred them in with a spoon.
Since you are adding these extra ingredients last, experiment and make a couple loaves with chocolate chips, a couple with raisins, and a couple with walnuts. Then you will know what you like.
Bake at 350 degrees for 50 to 65 minutes or until a toothpick comes out clean. Remove to a wire rack to cool. Serve warm with green tea and enjoy.
Feel free to experiment with ingredients. You can even play around with the spices too. My sister likes a lot of spice so she doubles these amounts and it tastes great. Just depends on how you like it.
To freeze the loaves, simply wrap each loaf in saran wrap and then place in a freezer zip loc bag. They will be good to go when you need them.
Give this pumpkin bread recipe a try. I think you will really enjoy it.
Home for pumpkin bread recipe
New! Comments
Have your say about what you just read! Leave me a comment in the box below.