Looking For The Perfect Casserole? Try This Mexican Casserole Recipe
2014-08-04
Prep Time :

0m

Cook Time :

0m

Ready In :

0m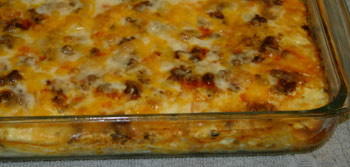 This Mexican casserole recipe is a cheesy flavorful dish.
The mild flavors of green chiles combined with caramelized onions, garlic, ground beef and several Mexican spices make this quiche-like dish quite heavenly. This is a dish that can be served for breakfast, lunch or dinner.
I brought this to a bunko party, cut it up into nice appetizer size pieces and everyone loved it.
Left-overs heat up nicely in the oven.
Mexican Casserole Recipe (Chile Relleno Casserole)
Ingredients:
1 lb. ground beef
1 tsp. ground cumin
1 1/2 tsp. oregano leaves
1/2 cup water
2 Tbs. Chili powder
salt to taste
1 onion, finely chopped
2 Tbs. olive oil
2 cloves garlic, minced
3 – 7 oz cans of whole green chiles drained
1 lb. Monterey Jack cheese, shredded
1/2 lb. of mild cheddar cheese, shredded
4 eggs
1 1/2 cups of milk
1/4 cup flour
Pam spray
9 x 13 baking dish
Directions:
Saute onion in olive oil in a large fry pan. Start with your flame on high and then lower the temperature to low. Continue stirring and cooking onion for 35 minutes until onion cooks down and turns a golden brown. Add garlic and saute an additional 4 minutes. Set aside in a bowl.
Brown the beef in the same pan and salt to taste (about 1/2 tsp). Drain off any excess grease from the beef.  Add the water, cumin, oregano, and chili powder and stir until well mixed. When beef is done add the onion, garlic mixture and mix all ingredients well.
Place the green chiles on a cutting board and slice them open and lay flat. Use paper towels to pat dry.
Coat the baking dish with Pam spray. Now layer the green chiles on the bottom of dish then the cheese and then the beef. Repeat these layers one more time. Finish with cheese on top.
In a medium size bowl mix the eggs and milk with a whisk. Add the flour a little at a time to avoid lumps.
Pour the egg mixture over the chile, beef and cheese. Bake in a 325 degree F oven for 35 to 40 minutes.
Make 8 servings.
This Mexican casserole recipe is delicious topped with guacamole and salsa.
Back to our easy breakfast casserole for more casserole recipes.