Chile Relleno Casserole Recipe
2014-07-30
Prep Time :

0m

Cook Time :

0m

Ready In :

0m
This chile relleno casserole recipe is perfect for entertaining and a quick and easy meal to prepare for your family. You can serve this dish for breakfast, lunch, brunch or dinner. It works for all these meals.
I have personally brought this particular recipe to pot luck dinners and people love it.
One thing I have to mention, Do not use low fat cheese. You will be disappointed. I made the mistake of doing that one time and it really ruined the dish. I don't know what I was thinking but I will never do that again.
Click here to watch my Chile Relleno Casserole video.
Ingredients:
12 oz.can of Chile Ortegas, whole Chiles
1 1/2lbs. of shredded jack cheese or Mexican 3 cheese blend. Do not use low fat.
1 1/2 cups of milk
1/4 cup flour
4 eggs
1/2 tsp. salt
pam spray
9 x 13 baking dish
Chile Relleno Casserole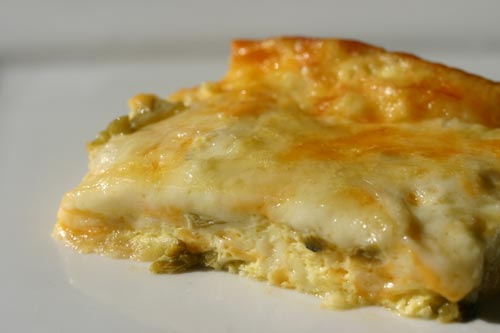 Directions:
Lightly spray the casserole dish with Pam. Drain and cut chiles into slices. Layer chiles and cheese in casserole dish.
In a separate bowl combine and mix with a wire whip:
Pour egg mixture over the chiles and cheese. Bake in a 325 degree oven for 45 – 50 minutes or until golden brown.
If you are interested in making a complete meal with this delicious chile relleno casserole recipe, you can add spanish rice, beans , salsa and a margarita! Now we are talking party time!
Return from Chile Relleno Casserole to More Mexican Food Recipes
We have more for you to choose from.
More Casserole Recipes
Check Out My Chile Relleno Video