Fantastic Chicken Fajita Recipe
2014-08-04
Prep Time :

0m

Cook Time :

0m

Ready In :

0m
Here is a chicken fajita recipe I am sure you will enjoy. Not only is this recipe quick to make, it's healthy for you, low in fat and it's easy to make. What more could you ask for? And of course it's delicious.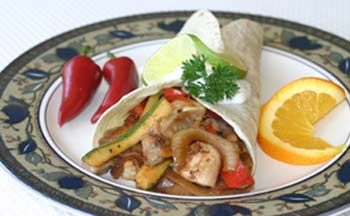 Did you ever wonder how to make chicken fajitas like they do in a restaurant?
There is just something special about a sizzling hot pan of Mexican fajitas coming to your table that's so appealing.
Now you can do it at home.
If you are looking for a great way to dazzle your friends with a meal, this is it.
Imagine a sizzling platter of chicken fajitas served to your table. You proceed to fill a warm flour tortilla with grilled onion, red bell pepper, zucchini and chicken that has been marinated in a delicious sauce.
Then you add a dollop of sour cream, creamy guacamole, and maybe some salsa. Now dig in.
Follow up with a frozen margarita and you are having a fiesta. This is good stuff.
I have all these recipes right here plus many other Mexican food recipes to please your appetite.
With our chicken fajita recipe, you will learn how to marinate fajitas with our special recipe sauce.
Then I will teach you how to prepare our chicken fajita recipe either in a cast iron pan or grilled on the barbecue.
Are you ready to get started?
Watch My How-To Video
Sizzling Chicken Fajita Recipe (serves 4 to 6 people)
Ingredients:
1 – 1 1/2 lbs. boneless, skinless chicken thighs or breasts
2 medium yellow onions sliced into 1/4 inch strips
1 large red bell pepper sliced into 1/4 inch strips
2 medium zucchini, sliced into 1/4 inch strips
Marinade
1/2 cup olive oil
1 tsp. liquid smoke
2 Tbsp apple cider vinegar
1 tsp. honey
1/4 cup water
1 Tbsp. fresh lime juice
1/4 tsp. Worcestershire sauce
3 cloves garlic, minced
1/2 tsp. oregano leaves
1 tsp. soy sauce
Toppings
a bowl of sour cream
2 cups shredded mild cheddar cheese
lime wedges, optional
fajita size flour tortillas
Directions:
Combine the ingredients for the marinade and place 2/3 in a glass bowl or Ziploc bag and the other 1/3 marinade in another glass bowl or Ziploc bag.
Rinse chicken in cold water and slice into 1/4 inch strips. I happen to like chicken thighs so I use them in this recipe. Feel free to use chicken breast.
Remove any remaining fat. Add chicken to the bowl with 2/3 of the marinade.
Slice the vegetables and place them in the bowl with 1/3 of the marinade. Refrigerate both dishes for 2 hours or more.
This is a great dish to serve at a party because you can do most of the preparation for this chicken fajita recipe ahead of time leaving you free to visit with your guests.
Grate your cheese and then cover and place in the refrigerator.
Do not prepare the guacamole recipe more than 2 hours before you are ready to serve it. Guacamole needs to be freshly prepared to be at its' best.
Cooking Your Chicken Fajita Recipe
Will you grill your fajitas or pan fry them? The choice is yours.
Let's talk about pan frying them first. I usually use cast iron pans when I cook my chicken fajita recipe. Why?
Because when you cook the chicken first, this leaves some brown tidbits and drippings in the pan. Then when you cook the veggies, they pick up this nice flavor as well.
There is just nothing like cooking in good old cast iron. And the nice thing about cast iron is it's pretty inexpensive, you can cook on very high heat, and you never have to worry about scratching the pan. Cast iron also keeps your food warm as it retains heat so well.
I've been slowly getting away from using Teflon pans after learning more about how they can emit toxic fumes while cooking with high heat.
Common sense tells me if cooking with Teflon can kill pet birds then it's probably not doing me any good either. You can read about this here if you are interested.
Back To Cook'n That Chicken Fajita Recipe
For the best presentation you will need two cast iron pans. One for cooking and the other for bringing the dish to the table.
Preheat the presentation pan, or comal as it's sometimes called, to medium-high to high. When you are ready to serve the dish, place the chicken and vegetables on this hot pan for a sizzling presentation.
Preheat another 12 inch cast iron pan over medium high heat. This is the pan you are going to cook in. Sometimes I crank it up to high and then turn it down to medium.
Add about a teaspoon or so of canola oil and when it gets hot add the chicken. It should be sizzling quite a bit. Turn the pieces as they cook. This should cook up pretty quick (between 5 – 8 minutes) as the pieces are pretty small. Check for doneness by cutting into a piece of chicken to see the juices run clear.
Remove the chicken to a dish to keep warm.
Now add the vegetables to the pan and toss as they cook. You might even want to turn the heat to high while cooking these. You will see lot's of sizzle going on.
Cook the vegetables till they get slightly limp but still have a crunch to them, 3 or 4 minutes.
Place the vegetables and chicken side by side on the preheated fajita pan. Drizzle a little marinade from the vegetable dish only over the chicken fajitas and watch them sizzle as you bring this to the table.
How To Barbecue The Chicken Fajita Recipe
Follow the directions above but don't cut the chicken into strips until after you barbecue the chicken. It's just easier to barbecue bigger pieces of meat so they don't fall through the grill.
Grill as usual over medium heat till the juices run clear. You can baste with the marinade while the chicken is cooking. Toss the marinade out after you are done basting.
Cook the vegetables the same as above in the cast iron pan. When you are ready to serve, place the meat and vegetables on that sizzling hot pan for that great presentation.
Warm a dozen flour tortillas in the oven by wrapping them in foil and placing in a 250 degree oven for a 10 to 15 minutes. Serve them in a tortilla warmer.
I like using a tortilla warmer as it does a great job keeping the tortillas warm throughout your meal and it looks very nice.
Set out bowls of guacamole, sour cream, salsa, grated cheese, and whatever you might like, for a complete Mexican meal that your guests can assemble themselves.
These could be the best fajitas yet.
You might want to complete this meal with a refreshing margarita.