Creamy Blackberry Pie Recipe
2014-08-02
Prep Time :

0m

Cook Time :

0m

Ready In :

0m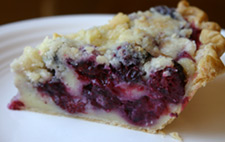 This blackberry pie recipe was given to me by Brenda Berndt. She won first place with this recipe at the 2003 State Fair in Texas for the Pie contest in the berry category.
This blackberry cream pie sounds so good I thought I would share it with you. You will need to get some fresh blackberries for this one. Frozen blackberries probably won't work as well due to their higher water content.
Delicious Blackberry Pie
Ingredients
3 cups fresh blackberries
1 unbaked 9 -inch deep dish pastry shell
3/4 to 1 cup sugar, depending on sweetness of berries
1/3 cup all purpose flour
1/8 teaspoon salt
2 eggs beaten
1/2 cup commercial sour cream
1/2 cup sugar
1/2 cup all purpose flour
1/4 cup butter
additional blackberries for garnish optional
Directions:
Place 3 cups blackberries in pastry shell. Set aside.
Combine 3/4 cup sugar, 1/3 cup flour and salt in a separate bowl. In another bowl mix the eggs and sour cream, stirring until blended. Now add the flour mixture to the egg mixture, a little at a time until all the sugar mixture is mixed in. Pour over blackberries.
Combine 1/2 cup sugar and 1/2 cup flour, cut in butter with pastry blender until mixture resembles coarse meal. Sprinkle evenly over sour cream mixture. Bake at 350 degrees F. for 50 to 55 minutes or until lightly browned. If desired, garnish with blackberries.
Bake a fresh blackberry pie with this recipe and let me know how you like this State Fair first place winner.